Happy Birthday, Dr. Seuss!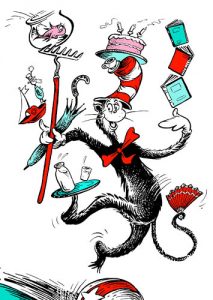 A WHOLE WEEK OF FUN THAT IS FUNNY!
Monday, 27 February:
Toddler Time, 9:15 am–short stories for little people: One Fish, Two Fish, Red Fish, Blue Fish; stomp along with The Foot Book.
Kids and adults: wear something red or blue.
Tuesday, 28 February:
After school, 3:30 PM–Horton Hears a Who, clover toss, make a Horton mask.
Kids and adults: it's also Fox in Socks Day: wear your craziest socks, or a mismatched pair ("That's funny–I have another pair just like this at home!")
Wednesday, 1 March:
Preschool Storytime, 10:00 am–Yertle the Turtle and a turtle craft project that's also a game.
Kids and adults: stop in for a wocket (bookmark) for your pocket. It's There's a Wocket in My Pocket Day.
Thursday, 2 March:
Dr. Seuss's 113th birthday! Featuring Happy Birthday to You, a cat-in-the-hat craft, and a Dr. Seuss matching game. Stop in at 6:30 pm.
Kids and adults: wear a hat–any hat–the funnier the better!
Friday, 3 March:
After school, 3:30 pm–If I Ran the Zoo. What kind of strange creature would you have in YOUR zoo?  Construct one and we'll all find out!
Kids and adults: wear something green for Green Eggs and Ham Day. Or eggs. Or ham. (Persons named Sam exempt)